As the clock ticks down to usher in the much-anticipated year of 2023, the mystical land of Uttarakhand Here are the Best Destination in Uttarakhand Celebrate New Year.
Nestled amidst the Himalayas, this northern Indian state boasts an array of enchanting destinations that promise to make your New Year's Eve a truly magical experience. From the serene shores of Nainital's pristine lakes to the snow-covered peaks of Auli, Uttarakhand has something for every traveler. Picture yourself welcoming the new year amidst the tranquil beauty of Rishikesh or reveling in the vibrant festivities of Dehradun.
Uttarakhand's top 10 destinations for New Year 2023 are a symphony of natural splendor and cultural richness, providing the perfect backdrop for a memorable and refreshing start to the year ahead.
Here are the Top 10 Best Destination in Uttarakhand Celebrate New Year
Mussoorie:
Scenic Beauty: Mussoorie is renowned for its breathtaking views of the Himalayan mountain ranges. The town is nestled in the Garhwal Himalayas, and you can witness stunning sunsets and panoramic vistas.
Pleasant Climate: Mussoorie enjoys a pleasant climate throughout the year, making it a great place to escape the hustle and bustle of city life, especially during New Year's.
New Year's Eve Parties: Many hotels and resorts in Mussoorie host special New Year's Eve parties and events. These celebrations often include live music, dancing, and delicious cuisine.
Shopping: The Mall Road in Mussoorie is a popular shopping destination where you can buy souvenirs, local handicrafts, and clothing.
Rishikesh:
Spiritual Retreat: Rishikesh is famous for its spiritual and yoga retreats. It's an ideal destination if you want to start the New Year with a focus on well-being and mindfulness.
Yoga and Meditation: Attend yoga and meditation sessions along the banks of the Ganges to rejuvenate your mind and body. Many ashrams and yoga centers offer special New Year programs.
Ganga Aarti: Witnessing the mesmerizing Ganga Aarti ceremony at Triveni Ghat is a spiritual experience you won't forget. It's especially beautiful during the evenings.
Adventure Activities: Rishikesh is also known for its adventure sports like white-water rafting, trekking, and camping. If you're an adventure enthusiast, you can combine adventure with spirituality.
Dehradun:
Urban and Natural Blend: Dehradun provides a unique mix of urban amenities and natural beauty. It's the capital city of Uttarakhand and offers a range of dining, shopping, and entertainment options.
Local Markets: Explore local markets like Paltan Bazaar and Tibetan Market, where you can shop for souvenirs, handicrafts, and local delicacies.
Cuisine: Dehradun is known for its diverse food culture. Try out local dishes at restaurants and street food stalls.
Robber's Cave: Visit the famous Robber's Cave, a natural cave formation with a stream flowing inside. It's a great spot for a day trip and exploration.
Nainital: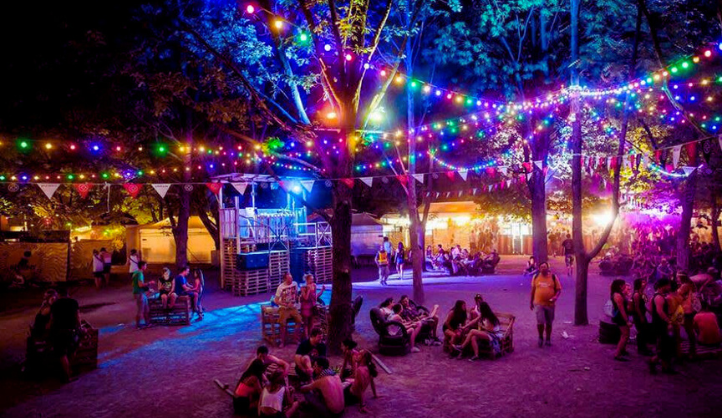 Naini Lake: Nainital is renowned for its beautiful Naini Lake. Celebrating New Year's Eve by the lakeside is a romantic and serene experience. Many hotels and resorts offer lakeside views.
Boating: You can go boating on Naini Lake and enjoy the scenic surroundings.
New Year's Parties: Numerous hotels and resorts in Nainital organize special New Year's Eve parties and events with music, dance, and delicious food.
Naina Devi Temple: Visit the Naina Devi Temple, located on the northern shore of the lake, and seek blessings for the coming year.
Auli:
Winter Wonderland: Auli is a dream destination for winter sports enthusiasts. It's known for its pristine snow-covered landscapes and is one of India's top skiing destinations.
Skiing and Snowboarding: Auli boasts excellent skiing and snowboarding facilities. You can take lessons if you're a beginner or simply enjoy the slopes if you're an experienced skier.
Scenic Beauty: Apart from the sports, Auli offers breathtaking views of the surrounding Himalayan peaks, including Nanda Devi and Mana Parvat.
Cable Car Ride: Don't miss the cable car ride in Auli, which provides panoramic views of the snow-capped mountains.
Haridwar:
Spiritual Start: Haridwar is a sacred city on the banks of the Ganges River and is known for its spiritual significance. Witnessing the Ganga Aarti at Har Ki Pauri on New Year's Eve is a deeply moving and spiritually enriching experience.
Har Ki Pauri: The main ghat, Har Ki Pauri, is the epicenter of the Ganga Aarti ceremony. Thousands gather here to witness the grand spectacle where priests offer prayers to the sacred river.
Bathing in the Ganges: Many pilgrims and visitors take a dip in the holy Ganges to cleanse their sins and start the year with a fresh and spiritually uplifting experience.
Local Markets: Explore the local markets and savor traditional Indian street food in Haridwar.
Corbett National Park: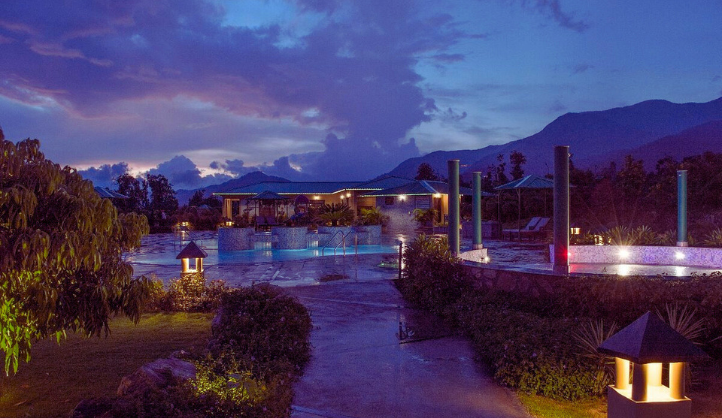 Wildlife Adventure: Corbett National Park is one of India's premier wildlife sanctuaries, known for its diverse flora and fauna, including tigers, elephants, leopards, and a wide variety of bird species. Celebrating New Year's Eve here can be a thrilling adventure for wildlife enthusiasts.
Jungle Safaris: Take jeep or elephant safaris to explore the park and spot its magnificent wildlife. The safaris are guided and offer a chance to observe animals in their natural habitat.
Special Packages: Many resorts and lodges around Corbett National Park offer special New Year packages that may include wildlife safaris, nature walks, bonfires, and themed dinners.
Connect with Nature: It's a serene and tranquil setting, providing an opportunity to connect with nature and welcome the New Year amidst the wilderness.
Binsar:
Secluded Retreat: Binsar is a lesser-known destination in Uttarakhand, perfect for those seeking a peaceful and secluded New Year celebration away from the crowds.
Stargazing: Binsar is renowned for its clear night skies, making it an excellent place for stargazing. You can bring your telescope or simply lie back and gaze at the stars.
Nature Walks: Explore the pristine forests and enjoy nature walks in the Binsar Wildlife Sanctuary. The quiet surroundings are ideal for reflection and relaxation.
Himalayan Views: Binsar offers stunning panoramic views of the Himalayan peaks, including Nanda Devi and Kedarnath. Watching the sunrise or sunset here is a serene experience.
Mukteshwar: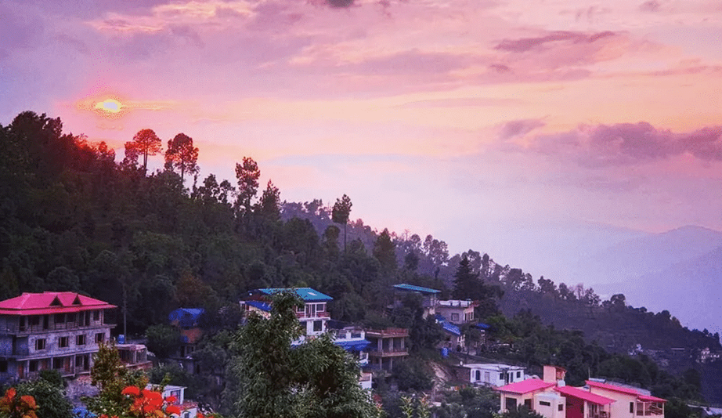 Tranquil Retreat: Mukteshwar is a serene hill station known for its tranquility and natural beauty. It's an ideal place to escape the city's hustle and bustle and unwind during the New Year.
Apple Orchards: Mukteshwar is famous for its apple orchards, and you can explore these orchards while enjoying the crisp mountain air.
Scenic Views: The town offers panoramic views of the Himalayan range, including Nanda Devi and Trishul peaks. Watching the sunrise over these majestic mountains can be a beautiful way to welcome the New Year.
Peaceful Environment: Mukteshwar is not as crowded as some of the more popular tourist destinations, which adds to its charm as a peaceful retreat.
Chopta:
Mini Switzerland of India: Chopta is often referred to as the "Mini Switzerland of India" due to its breathtaking natural beauty and pristine surroundings.
Trekking: Chopta is a hub for trekkers and adventure enthusiasts. You can embark on treks to Tungnath and Chandrashila, offering stunning views of the Himalayas.
Solitude: Chopta is a relatively lesser-known destination, making it perfect for those seeking solitude and a deep connection with nature.
Stargazing: The clear night skies in Chopta make it an excellent place for stargazing. You can witness a blanket of stars far from city lights.
Conclusion:
In conclusion, Uttarakhand offers an enchanting and serene backdrop for celebrating the arrival of the new year in 2023. With its top 10 destinations, each offering unique experiences, this northern Indian state promises an unforgettable start to the year. Whether you seek spiritual bliss in Rishikesh, the scenic beauty of Nainital, or the tranquility of Auli, Uttarakhand has something for everyone.
As you bid farewell to the old year and embrace the new, Uttarakhand's natural beauty, adventure opportunities, and cultural richness will make your New Year's celebration truly special. Remember to plan ahead, check COVID-19 guidelines, and book your accommodations early to ensure a seamless and memorable New Year's getaway in Uttarakhand.
FAQs (Frequently Asked Questions):
Is Uttarakhand a safe destination for celebrating New Year's in 2023?
Uttarakhand is generally considered a safe destination. However, it's essential to take standard precautions, such as safeguarding your belongings and following local guidelines, to ensure a secure and enjoyable New Year's celebration.
What is the weather like in Uttarakhand during New Year's?
The weather in Uttarakhand during New Year's varies depending on the region. In places like Nainital and Mussoorie, expect cold temperatures and even snowfall, while Rishikesh and Haridwar have milder winter weather.
Are there restrictions or special permits required for visiting certain Uttarakhand destinations during New Year's?
Some eco-sensitive areas and wildlife reserves in Uttarakhand may require special permits, so it's essential to check in advance and obtain any necessary permissions before planning your visit.
What are the best activities to enjoy in Uttarakhand during the New Year's celebration?
Uttarakhand offers a range of activities, including trekking, skiing, wildlife safaris, and spiritual experiences. The choice depends on your interests and the destination you choose within the state.
Are there any cultural or local New Year's traditions in Uttarakhand worth experiencing?
Uttarakhand has a rich cultural heritage, and you may have the opportunity to witness traditional celebrations and rituals during New Year's, such as aarti ceremonies on the banks of the Ganges in Rishikesh or special prayers at temples in Haridwar. Check with local sources for specific events happening during your visit.